All former, current, and retired commissioned officers and warrant officers of the Uniformed Services, and spouses are eligible to join. Officers of Allied Militaries, Serving or Retired US Government Employees in the grade of GS-8 or above, Parents of Officers eligible for membership, and adult children of Officers eligible for membership are eligible to become Associate Members of the Chapter.
Annual chapter dues are $20.00 and life memberships are available with the cost based on age. Chapter membership includes a basic membership to MOAA National if not already a member.
Membership is free for the first year for Active Duty Military and Drilling Reservists.
WHY JOIN THE MILITARY OFFICERS ASSOCIATION OF AMERICA CAPE CANAVERAL CHAPTER (MOAACC)?
We "Never Stop Serving" and being a chapter member provides an opportunity to give back to those serving, help local veterans, and shape the future generations.
Outreach and Support to the Community: Speakers Bureau, Veterans Back to Class, and many more.

Recognition of local ROTC, JROTC, Sea Cadets, and Civil Air Patrol Members

MOAACC Scholarship Fund is a nonprofit 501(c)(3) organization that recognizes exceptional students that are descendants of military members and veterans

The MOAACC Good Deeds Foundation is a nonprofit organization that provides direct support to local military, veterans organizations and their family members, ROTC and JROTC, Sea Cadet and Civil Air Patrol in the area
MOAACC Sponsors events and activities for like-minded former, active, and retired commissioned officers and their spouses.
Monthly Luncheons with Noted Speakers

Bi-Monthly Current Affairs Forum

Active Auxiliary and activities for spouses
MOAACC takes care of our members.
Medical and Veterans Administration Clinic Liaison

Outstanding Survivor Assistance Program

Job Search Assistance to transitioning Veterans
COME JOIN US!
Membership is $20 a year (less than $1.67/month!) and free for Active Duty Military and Drilling Reservists for the first year.
Join or renew and pay on-line, or download, complete the application and mail a check made out to "MOAACC":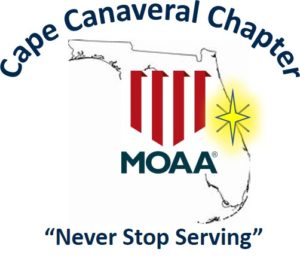 Military Officers Association of America
Cape Canaveral Chapter
P.O.Box 254186
Patrick SFB, FL 32925-4186
MOAA National, the various State Councils and their affiliate chapters, including the Military Officers Association of America, Cape Canaveral (MOAACC), are all nonpartisan organizations.
The Military Officers Association of America (MOAA) is the country's leading organization protecting the rights of military servicemembers and their families.  Go here on the MOAA.org website to find out more information about joining.  https://www.moaa.org/content/join-moaa/why-join-moaa/